Lakeland Village Tourist Core Properties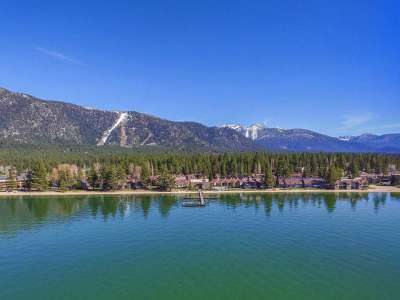 Enjoy this Lakeland Village aerial video! Lakeland Village is a private waterfront home community in the Tourist core that extends over 19 wooded acres and borders 1000 feet of sandy beach! All 260 town homes and condominiums are privately owned.
Dianna Dorn is an owner and specializes in Lakeland Village having helped over 275 families buy and sell. This is
Lakeland Village homeowners enjoy amenities such as a pier/ dock, Sandy Beach,3 swimming pools, two hot tubs, 2 saunas, fitness center, parking garage, 2 tennis courts, BBQ's, pool furniture and so much more!
Lakeland Village is centrally located in South Lake Tahoe with beach, street and bike trail access to shopping, restaurants, entertainment, casinos, golf, ice skating, library, skate park, disc golf, BMX park, hiking, watersports and much more. In the summer Lakeland Village is the place to be. The South Lake Tahoe firework show can be watched right from the Lakeland Village beach and dock. In the winter Heavenly Sports Ski shop opens up in the lodge building for all of your ski rental needs.
Owners of well-maintained, nicely furnished Lakeland units have the option of using the services of the "on-site" vacation-rental agent, if they choose to make their unit available for short-term vacation rental. This is a very attractive "turn-key" managed program that requires no hands-on input from the owner. Many owners use this program to off-set ownership costs.
For the investor looking for one of the most attractive real estate properties to own in the Tahoe basin, you will find that Lakeland Village is a very appropriate choice. Choose a type or price range from the selection available. A range of sizes from a moderately priced Studio apartment in the Lodge building to Waterfront Units available with up to five bedrooms located on 1,000 feet of wide, sandy beach.
I have been a proud owner in Lakeland Village since 1998. I currently one Lakeland Village home. My husband Jon and I take walks on the beach to watch sunrises and enjoy BBQ's at sunsets. Restaurants such as Riva Grill and The Red Hut both located at the corner of Ski Run Blvd and Lake Tahoe Blvd and also walk-able to via the beach.
Call me for a tour of the property today at 530-545-1231.
I have also created a video and photo gallery for your enjoyment.
Lakeland Village Homes for Sale

Sorry we are experiencing system issues. Please try again.