Cave Rock, Nevada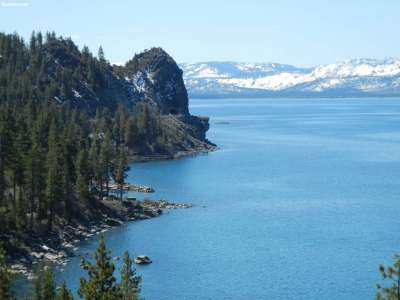 See all Cave Rock Property for sale below…
The Cave Rock area of Lake Tahoe is a prestigious and beautiful area that is well known for its landmark tunnel. Cave rock is located along the eastern shore of Lake Tahoe approximately seven miles north of Stateline, in Douglas County. Cave Rock is a 360-foot-tall rock outcropping that was caused by a volcanic eruption over 3 million years ago. There are numerous small caves adjacent to the tunnels which give the rock its name. Cave Rock is a sacred place for the Washoe Indians and a place for religious ceremonies preformed by the tribal shamans. There are 9000 year old hieroglyphs that were found inside the lower cave. Per the Washoe Indians, touching the rock for any extended period is forbidden in their culture.
At the base of cave rock, tucked beneath the rugged volcanic mountain is a small day use area. The day use area has a double ramp boat launch, picnic sites, parking, and a small beach area for swimming. Cave Rock is also a popular fishing spot for both shore fisherman and those fishing by boat. Breezy and choppy days are a great time to sit on the bank, soak some live bait, and take in the beauty of the Lake.
Cave Rock, Nevada Homes for Sale

Sorry we are experiencing system issues. Please try again.